September 29, 2021 (MLN):.Pakistani rupee (PKR) could not resist enough against the surging dollar as the local currency fell by 52 paisa in today's interbank session and closed the trade at PKR 170.48.
The strong dollar demand amid recent news of a bill that moved in the US Senate to impose sanctions on the Afghan Taliban that could potentially extend to Pakistan has created much pressure on the PKR. Meanwhile, the rising international crude oil prices dragged the Pakistani Rupee (PKR) further as it slumped by 41 paisa against the US dollar in the interbank market in the early trading hours.
The domestic unit had been in a free-fall against the dollar for the past month, with the dollar hitting an all-time high at Rs170 on Tuesday.
In his early morning Tweet, Asad Rizvi, the Former Treasury Head at Chase Manhattan noted, PKR made two attempts in the interbank market to break the crucial level of 170 per dollar yesterday. This is a psychological level never seen before
"Suspect without SBP intervention or further use of its monetary tool, nothing can stop Dollars advance, which is bad for the economy," he added.
The rupee witnessed a volatile session in intraday trade as it was traded in a range of 75 paisa per USD showing an intraday high bid of 170.70 and an intraday Low offer of 170.95.
Within the Open Market, PKR was traded at 170/172 per USD.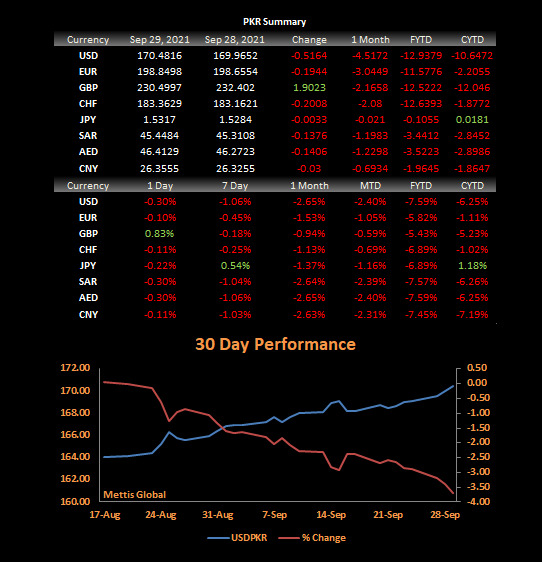 According to the data compiled by Mettis Global, the local unit has depreciated by 7.59 or PKR 12.93 in the fiscal year-to-date against the USD. Similarly, the rupee has weakened by 6.25% or PKR 10.64 in CY21, with the month-to-date (MTD) position showing a decline of 2.11%.
Alternatively, the currency gained 1.9 rupees against the Pound Sterling as the day's closing quote stood at PKR 230.5 per GBP, while the previous session closed at PKR 232.4 per GBP.
On the other hand, PKR's value weakened by 19 paisa against EUR which closed at PKR 198.85 at the interbank today.
On another note, within the money market, the overnight repo rate towards close of the session was 7.00/7.25 percent, whereas the 1 week rate was 7.30/7.40 percent.
Copyright Mettis Link News
Posted on: 2021-09-29T16:36:44+05:00
27149