October 05, 2021 (MLN): Pakistani rupee (PKR) successfully managed to hold its ground against the greenback in today's interbank market session as the currency closed the trade at PKR170.8.
The rupee traded within a narrow range of 35 paisa per USD showing an intraday high bid of 170.90 and an intraday Low offer of 170.55.
After witnessing a sharp decline in the previous session, PKR finally took some breather. However, the unfavorable macros and ongoing geostrategic situation have made it difficult for the rupee to hold the ground longer.
According to Asad Rizvi, the Former Treasury Head at Chase Manhattan said, "the widening of trade gap to $11.6bn in 1QFY22 is disturbing. Potentially Oil can make some more gains that could challenge the government's ambitious spending plan."
"Government has less than 20-months to deliver. With IMF close watch, managing deficit, exchange rate & inflation will not be easy," he added.
Within the Open Market, PKR was traded at 171/172.50 per USD.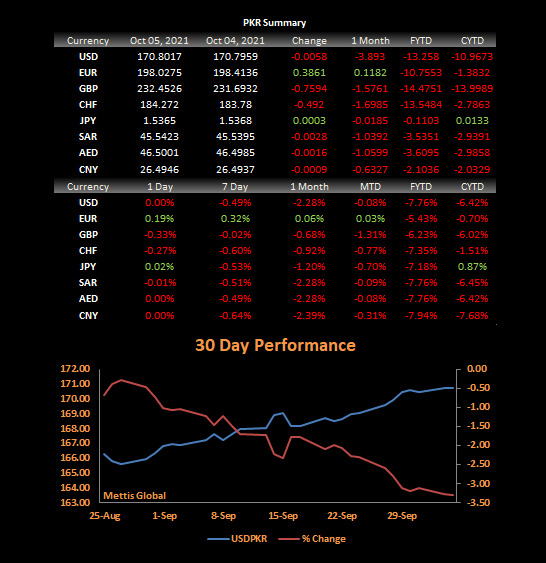 As per the data compiled by Mettis Global, the local unit has depreciated by 7.76% or PKR 13.25 in the fiscal year-to-date against the USD. Similarly, the rupee has weakened by 6.42% or PKR 10.96 in CY21, with the month-to-date (MTD) position showing a decline of 0.08%.
Meanwhile, the currency lost 76 paisa to the Pound Sterling as the day's closing quote stood at PKR 232.45 per GBP, while the previous session closed at PKR 231.69 per GBP.
On the other hand, PKR's value strengthened by 39 paisa against EUR which closed at PKR 198.03 at the interbank today.
On another note, within the money market, the State Bank of Pakistan (SBP) conducted an Open Market Operation in which it injected Rs.133.5 billion for 3 days at 7.32 percent.
The overnight repo rate towards close of the session was 7.30/7.50 percent, whereas the 1 week rate was 7.35/7.45 percent.
Copyright Mettis Link News
Posted on: 2021-10-05T16:44:02+05:00
27256