October 04, 2021 (MLN): Breaking all the previous records, the Pakistani rupee (PKR) registered an all-time low against USD as the currency closed the day's trade at PKR 170.8, depreciating by 32 paisa.
In the previous session, PKR managed to set the trade at 170.48 per USD.
In his early morning Tweet, Asad Rizvi, former Treasury Head at Chase Manhattan stated, the domestic currency could adopt a moderately softer tone after a one-sided move seen in the last quarter. PKR is likely to remain choppy in the near term until the official announcement of the meeting with the IMF.
"Pandora Leaks too could lead towards uncertainty until there is more clarity," he added.
During the session, the Rupee traded in a range of 44 paisa per USD showing an intraday high bid of 170.84 and an intraday Low offer of 170.40.
Within the Open Market, PKR was traded at 171/172.30 per USD.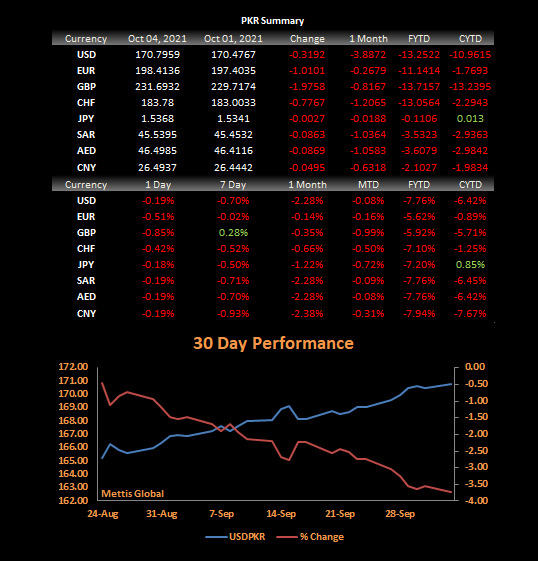 As per the data compiled by Mettis Global, the local unit has depreciated by 7.76% or PKR 13.25 in the fiscal year-to-date against the USD. Similarly, the rupee has weakened by 6.42% or PKR 10.96 in CY21, with the month-to-date (MTD) position showing a decline of 0.08%.
Meanwhile, the currency lost 2 rupees to the Pound Sterling as the day's closing quote stood at PKR 231.69 per GBP, while the previous session closed at PKR 229.72 per GBP.
Similarly, PKR's value weakened by 1 rupees against EUR which closed at PKR 198.41 at the interbank today.
On another note, within the money market, the overnight repo rate towards close of the session was 7.30/7.50 percent, whereas the 1-week rate was 7.35/7.40 percent.
Copyright Mettis Link News
Posted on: 2021-10-04T16:05:31+05:00
27236